[IMPORTANT] Be Aware of Impersonating Toram Staffs/GMs
---
In Toram Online, we have Game Masters (GM) to hold in-game events and as PR staffs for live streams.
We would like to introduce our GMs to prevent impersonation of Toram Staffs.
Please be careful for the players who claim to be the staffs of Toram Team.
Game Masters
The names and chat colors of GMs are different from those of normal characters.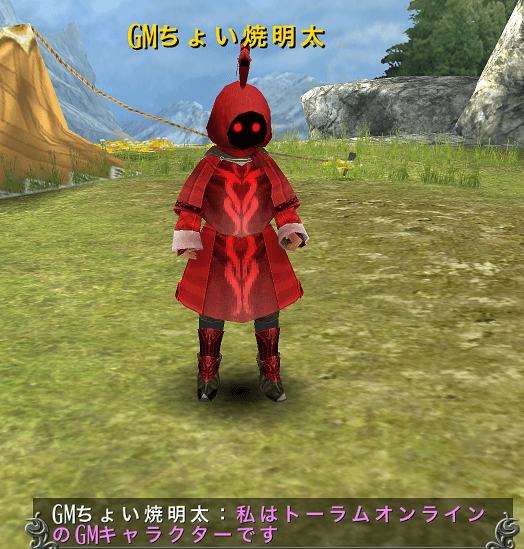 There are no other GMs except the characters below.
We would like to announce on our official website when we add GMs.
GM:マンゴー / BeMMO Channel MC
GM:パイナポー / BeMMO Channel MC
GM:鈴木P / Producer
GM:世界の鈴木 / BeMMO Channel MC
GM:広報かな / BeMMO Channel MC
GMちょい焼明太 / Operation Staff
Calras / Operation Staff
Sellen / Operation Staff
GM:Pomuu / Support Staff
*Operation Staffs are working for holding in-game events, participating in-game events and encourage players to communicate with each other.
*The Support Staff is working for supporting players who encounter in-game issues.
Note
*Impersonating Toram Online staffs is against our Terms of Use.
Please refer to "Penalty Policy" for the details.
*If you find someone claiming himself/herself to be a GM or staff, or staff of ASOBIMO Inc., please contact us via Contact Form with the category of "Abuse Report".
*We will not recruit players as Game Masters.
*We will NEVER receive items without giving something in return, nor ask ASOBIMO Account ID and passwords.