Latest Update Info&Special Giftouts! Watch Toram Live on August 23rd!!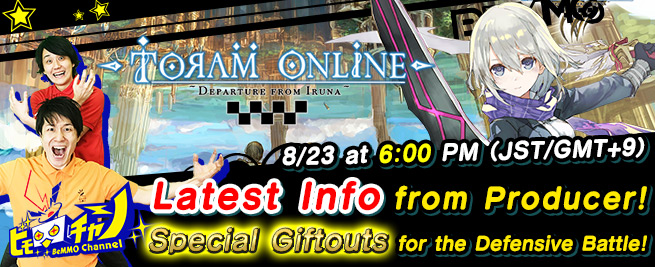 Watch BeMMO Channel on Wednesday!
Toram Online Live starts on August 23rd at 6:00 PM (JST/GMT+9) with the latest update info and programs with special giftouts!
Live Program Web Pages
Watch on YoutubeLive!
*You can watch the live in high definition!
If you can't go to the website via the link, please tap the following link.
YoutubeLive Program Web Page
---
Schedule: August 23rd (Wed), 2017 at 6:00 PM (JST/GMT+9)
MC: Nangoku Vacance (SHOCHIKU GEINO)
Cast: Toram Online Producer Suzuki
---
Live Contents
New Program! Toram Checkpoint Race!
Nangoku Vacance will run around the world of Toram via checkpoints.
They must complete "missions" at each place.
Which one can reach the goal faster?!
Nangoku Challenge! Protect the Crystal in "Defensive Battle"!
Nangoku Vacance challenges "Ex Arena (Defensive Battle)" in 2nd Anniversary Event.
If they win, you have a chance to get the gifts!
*Must Watch* Latest Update Info from Producer Suzuki!
Producer Suzuki will directly introduce the update information for August 2017!
Don't miss it!