[EDIT:8/6 15:0 PM(JST)][Maintenance Completed] Let's Set Out for Adventure! Warp & Battle Campaign Is Being Held!!
---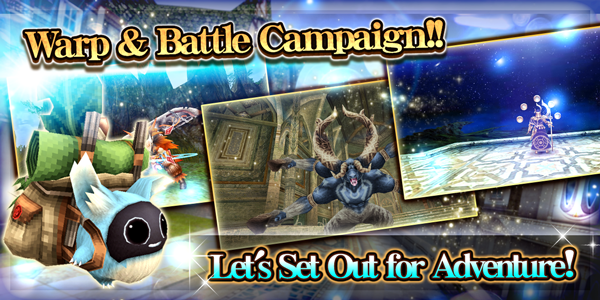 After the maintenance on 07/22/2020, Warp & Battle Campaign Limited Wormholes will appear in "Sofya City", "El Scaro", and "Hora Diomedea".
Depending on your story mission progress, you will be able to move to the maps that are close to some boss monsters.
So grab this chance and don't hesitate to go far away to beat 'em!
Warp & Battle Campaign Period
From: 07/22/2020 after the maintenance
Until: 08/27/2020 before the maintenance
Until: 07/30/2020 before the maintenance
About Warp & Battle Campaign Limited Wormholes
Requirement
Boss
Chapter 1
Story Mission
"The Dragon and Black Crystal" Completed
Minotaur
Brutal Dragon Decel
Chapter 2
Story Mission
"The Star Wizard" Completed
Mauez
Boss Roga
Chapter 3
Story Mission
"Monsters from Outerworld" Completed
Masked Warrior
Grass Dragon Yelb
Chapter 4
Story Mission
"The Falling Feather of Death" Completed
Goovua
Black Knight of Delusion
Chapter 5
Story Mission
"To the World of the Living" Completed
Cerberus
벡시즈
Imitacia
Chapter 6
Story Mission
"Mystery of the Black Knights" Completed
Proto Leon
Mozto Machina
Chapter 7
Story Mission
"Chaotic Truth" Completed
Zahhak Machina
Gwaimol
Ornlarf
Chapter 8
Story Mission
"At Mountains' End" Completed
Mom Fluck
Mardula
King Piton
New
Finstern the Dark Dragon
Chapter 9
Story Mission
"The Man Who Seeks Death" Completed
Tuscog
NewEroded Pilz
Gravicep
*The maps you can move to with the Warp & Battle Campaign Limited Wormholes depend on the story mission progress of the character using them.
Please refer to the following for other maintenance contents.
Maintenance Details
- "EX Arena", the 5th venue of the Anniversary Arena, will be playable.
- The prizes for Toram Live Streaming have been sent.