[Result Announcement][ 667,639 Bosses Defeated]Event Map, Quests and Recipes! Halloween Event has Begun!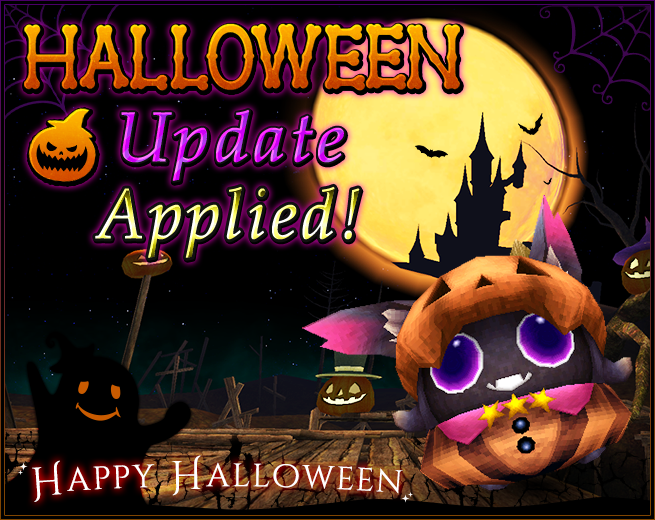 Trick or Treat!
Halloween has come to Toram Online!
We have special map, quests and recipes for Halloween Event 2016!
Let's enjoy Halloween a little bit earlier in Toram Online!
Collect Various Sweets! Halloween Event Has Begun!!

The special event map will be open from after the maintenance October 13th until November 10th at 5:00 AM (JST/GMT+9).
You can go to the map from the wormhole in Sofya City, and accept quests from NPCs: "Jacky", "Olant", "Potumkin".
You will have to grant their wishes in the quests this time.
And you will face the mighty boss monster in the end of the story!
[EDIT:10/17 3:45 PM]Adjustment in Halloween Event 2016
We have received a lot of opinions that players cannot freely help players defeat Event Monster: "Pumpking".
To improve this issue, we have adjusted the conditions to fight "Pumpking".
After the adjustment, you can fight "Pumpking" without "[Trick] Book", "[Or] Book", "[Treat] Book".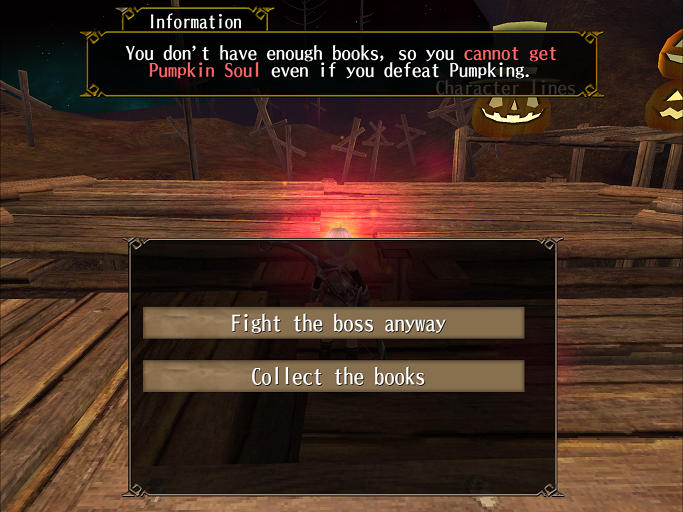 Please note that you cannot get Pumpkin Soul by defeating Pumpking without using the items above.
Also, to release Hard and Very Hard mode, you need to defeat "Pumpking" after using these items.
So Many Unique Items! Limited-Time Recipes Added!!

Not only "Halloween Garb" that was released last year, there will be many recipes of unique equipment!
Check out the new recipes and dress up your character!
The limited-time recipes will be added during the Halloween Event, so don't miss it and stay tuned!
Available Period of Limited-Time Recipes
From: After the maintenance on October 13th
Until: Before the maintenance on November 17th
Play Everyday, Get Everyday! Halloween Event Emblems Released!!
During the following event period, you can get various items by achieving certain conditions from Halloween emblems.
Log in everyday and get the items!
Halloween Emblems
・Halloween Login Bonus
Condition: Log in the game.
Reward: Pumpkin Soul x1 (Material for the Limited-Items)
・Halloween Defeat Bonus
Condition: Defeat 100 monsters.
Reward: Sweets Box x1 (You can get 1 item from the items that are required to proceed Halloween quests.)
Defeat More and Get More! Boss Hunting Event!

To celebrate the release of Halloween Event 2016, we will hold a Boss Hunting Event for "Pumpking" after the maintenance on October 13th.
The number of "Pumpking" defeated in all the "Worlds" will be aggregated during the event.
As you achieve the following number of defeats, you will get greater reward!
Unite your power and achieve all the goals!
Goals and Reward
・100,000 bosses or more:
Life Potion x3
Mana Potion x3
Revive Droplet x3
・200,000 bosses or more:
The reward of 100,000 bosses plus...
Libera's Book II x1
Virgo's Book II x1
Tenert's Book II x1
・300,000 bosses or more:
The reward of 200,000 bosses plus...
Avatar Ticket x1
・500,000 bosses or more:
The reward of 300,000 bosses plus...
Orbs x2
Avatar Ticket x2
*The number of defeats will be aggregated for all the difficulties of Pumpking.
*To receive the reward, you are required to defeat at least 1 Pumpking during the event period.
*We will announce the progress of this event.
*The event schedule is subject to change.
Event Period
From: After the maintenance on October 13th
Until: Before the maintenance on November 10th