New Skill Tree "Sprite Skills" & "Crusher Skills" Lv4 Released!
---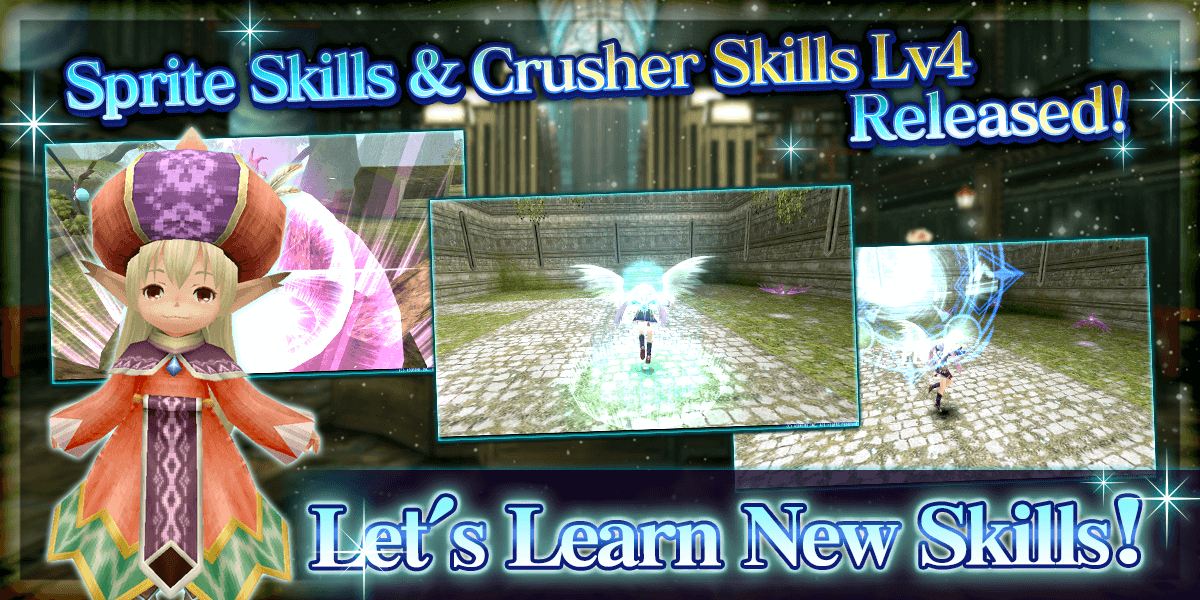 "Sprite Skills" skill tree and Lv4 skills of the skill tree "Crusher Skills" have become available through the maintenance on Thursday, 10/27/2022.
Let's Learn New Skills!
★
How to Acquire the Skills
★
Sprite Skills
★
Crusher Skills
How to Acquire the Skills
| | |
| --- | --- |
| The Library is Here! | NPC "Lilulu"     |
You can acquire the skill tree from the NPC "Lilulu" in the library in
"Sofya City"
with Spinas when your level meets the requirement.
Level Requirement
| Skill Tree | Character |
| --- | --- |
| Lv1 | Lv 50 or more |
| Lv2 | Lv 90 or more |
| Lv3 | Lv 170 or more |
| Lv4 | Lv 250 or more |
Sprite Skills
Sprite Skills can be used by equipping a magic device as your main weapon.
Below are the new skills added this time.
Lv1
Skill
Description
Auto-Device
A technique allowing magic device to assist attack.
Performs a normal attack on target after beinnidle for 60 seconds.
Efficiency reduced for long-range (8m or more).

---
Lv2
Skill
Description
Express Aid
Raises and rushes the output of magic device.
Increases traveling speed toward the target of "First Aid" and reduces damage received up to acertain number of times.
Counterforce
A supporting technique with magic device.
Deploys a magic circle for 30 seconds to attack the target if a party member in sight (up to 24m)receives damage. (Max 3)
---
Lv3
Skill
Description
Micro Heal
Sharing a little comfort
Slightly restores your HP and the HP of the partymember who has lost the most HP.
Enhance
A technique that boosts outstanding abilities further.
Enhances the attack power of the partymember with the highest ATK and MATK (1 each).
Astral Lance
An attack technique that efficiently recycles depleted mana.
Attacks by releasing a powerful magic lance for every 500 MP consumed for 90 seconds.(max 1 lance)
---
Lv4
Skill
Description
Resurrection
A secret technique to resuscitate those who can nolonger fight.
The waiting time for those around you (within 16m) to revive instantly becomes 0 s.
*Not available if First Aid is not applicable.
*Not usable with combo.
Stabiliz
A technique that improves accuracy.
Increases the stability of Critical Rate and Magic damage, and mitigates the decrease in stability of Graze hits
for 45 seconds. Removes [Fatigue] when activated.
Sprite Shield
A secret technique to convert energy into mana.
Consumes HP to instantly restore 100 MP.
Reduces the damage taken next and the chance of being inflicted with a status ailment.
Magic Vulcan
A revolving magic cannon technique.
Inflicts consecutive magic damage to the target.MP can be consumed additionally to continue attacking, but the power will diminish bit by bit.
This attack does not cause proration.
Crusher Skills
Crusher Skills can be used by equipping a knuckle as your main weapon.
Below are the skills added and adjusted.
Lv4
Skill
Description
Terrablast
A technique to crush the earth and use the uplifted bedrock as a shield.
Deals damage to your surroundings and gets a barrier based on the HP consumed for 10 seconds. (Can't be overwritten).Critical is guaranteed if Annihilator is in effect and the target is inflicted with Armor Break.
Divine Rigid Body
Perfecting the hand of god.
May reduce Fractional Damage and increase Ailment Resistance while God Hand is in effect.
MP is slightly restored each time the damage gets reduced. (max 4 times)
---
Adjusted Skills
Skill
Description
Goliath Punch
A punch that can even knock down powerful enemy.
Charge Skill(6 Levels).The area of attack is extremely small.
The power decreases if left unused for too long after the highest charge level is reached.
Annihilator
he essence of destruction.
Learn this skill to get a passive effect that raises Breathwork's HP recovery amount. Reduce MP Cost of the next skill used when it's Lv10.
Use knuckles as main weapon to get additional effect.